Home

/

Rainbow Treated Matrix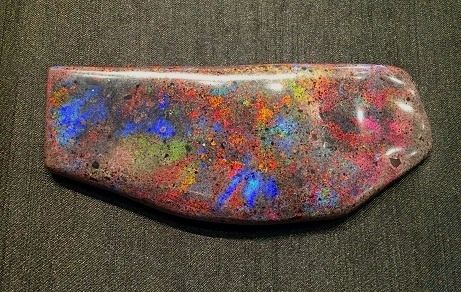 Rainbow Treated Matrix
RRP:
$2,727.27 AUD ex GST
Regular Price:
$2,727.27 AUD ex GST
Price:
$2,181.82 AUD ex GST
Description
This Andamooka treated matrix specimen originates from the opal fields of Andamooka in Southern Australia. A treating process which darkens the background colour of limestone matrix in which the opal forms is utilised to highlight the brilliance of the opal. This piece showcases brilliant colour flashes of every spectrum of the rainbow and is polished to a smooth finish.
Product Details
Barcode:

52332

Dimensions:

13.0 x 5.5 x 1.4 cm

Total Weight:

130.5g

Shape:

Free form

Opal Type:

Treated Matrix

Colours:

Red, orange, gold, green, blue & violet

Origin:

Andamooka